To allow for true enjoyment, the debut EP Piddington by Sounds Of Agriculture should be interpreted through a few mental perspectives. For a four-piece band based in the upper Blue Mountains town of Blackheath, these five tracks represent an amalgamation of immersive sonic ideas and experimentation skills acquired since their loose formation in mid-2018. This album could also be considered as a heartfelt live relic of songs compiled from the past two years, preserved in studio quality, from the viewpoint of vocalist/guitarist Michael Hoffman, bassist Steven Fleischmann, backing vocalist/synth/looping specialist Harriet Burks, and drummer Matthew Linley. The group are now negotiating for their live lead guitar sound to be provided by Chet Miller (Isopod, Feast Of Fools).
The inherent live vibe of the EP was achieved through all songs being recorded in one day in the lounge room of The Grange in Mt Victoria, in a full band setting. Built in 1887 for William Piddington, Piddington Grange was the original name of the property where Sounds Of Agriculture recorded this work. They returned the favour through the naming of their album…in vague memory of a powerful man who died 133 years before the recording was made last year. Within such a historic setting, it's ironic to think that the group were able to conjure such distant alien landscapes of sound, on tracks such as 'Feeding Time'.
The Grange is pictured below, courtesy of Sydney Living Museum's Caroline Simpson Library & Research Collection.
Indeed, that's one of the artistic statements they achieved, with thorough assistance from sound/mixing/mastering engineer and fellow musician Oliver Morley-Sattler (The New Language, Paperhill ).
Two years ago, Michael and Oli collaborated on the planning of the Subterrain Generator Party in September of 2019, where Sounds Of Agriculture performed their wildest show yet - (picture below, courtesy of the ABC).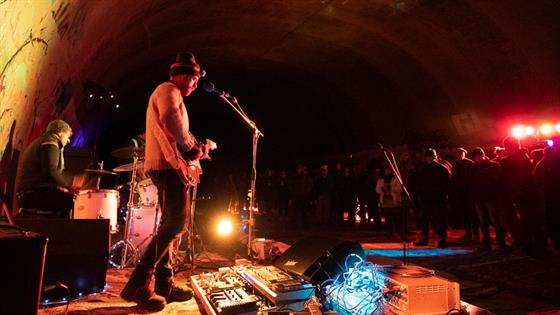 An emphasis on quirky noise and raw expression also guided the creation of the EP, as heard in 'Asthma Weed', featuring mellow melodies thickened up by disorienting guitar fuzz and deep drums, as heard in 'Awake'. The album itself was originally conceptualised through the group wanting a demo to send to local venues, but things naturally developed into a grander endeavour.

"I think it remained pretty close to what we'd all envisioned", Michael explains. Evolving in a unique path from country folk to rock to Piddington's post-punk and psychedelic elements, Michael's range of musical skill has expanded quite significantly. All the while, the development of his vocal style continues with more cathartic vocalisations and new spoken word techniques, verging on rap. As a former non-singer spending more time in front of a microphone, this EP demonstrates Michael's expanding ability to deliver a range of deep internal emotions through the grit of his voice. "I need to find where I enjoy singing", he says.

Regarding the converging past and future sounds of the band, Michael states, "I was channeling a fair bit of anger in writing a lot of the songs", (as experienced in a track like 'Wife Beater'). "A lot of the stuff we're doing now is not as angry", he reveals. "A lot of it is more mellow, with more space". Summing up the mission statement for the EP, Michael concludes, "We wanted to give people a true indication of what we sound like live." I believe that this goal has been passed, with flying colours!

Stay tuned for more music and gigs from Sounds Of Agriculture.
Words by Corin Shearston