Formerly known for its nightclub vibe, Katoomba's enchanted entertainment space Baroque has been closed for major refurb. The Carrington crew are enhancing the building's art nouveau styling with leadlight windows, bringing the stage up and out, sweetening the sound system and burrowing the backstage area. The driveway entrance will be embraced as the official way in making all-ages a possibility too. Little birds tell us the focus will be on cabaret, theatre, film, live music and of course dancing with the official re-opening September 28 & 29 hosting Risque Review (cabaret from Sydney - think Moulin Rouge, pictured) and On the Stoop (live gypsy/swing music).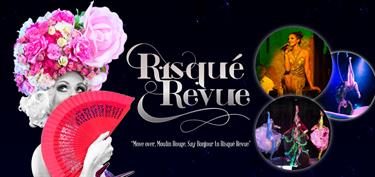 On The Stoop don't plan on sticking to the rules. Or expectations. Or the straight path. Join them and be a part of the Baroque relaunch weekend following the extensive refurbishments. Balkan Gypsy, Mariachi, New-Orleans Swing, Hot Jazz, Spaghetti-Western, Cabaret, Film Score, Cumbia, Ska, Punk-Rock and Funk and few other as yet unidentified genres are all represented in this magnificent ensemble.
On The Stoop are making a mark with their own style of refreshingly unpredictable music.

This magic medley of music is part of the Carrington's Baroque re-opening weekend featuring on Saturday September 29.
18 Sep 2018
Posted 3 years ago