One Foot in the 'Toomb'
Andie has a folky pop sensibility that appeals to the quirky side of life. She's a lovable rebel who can't seem to set a foot wrong, earlier this year she made the move to Melbourne but she's flown back to perform at a wedding, so Willem and Mark grab a coffee and begin the quiz at the Cultural Centre in Katoomba.
"I'm playing the wedding of the keyboard player of the Axis of Awesome in an hour," Andie is pumped as she met Benny when she was starting out. "I met him when I was doing theatre sports in high school. He gave me heaps of really good advice about independently releasing my first EP, Deciduous."
"The first track on there is called You Confuse Me. I wrote it about a boy when I was like 15 or 16. The reason why those birds are in the background, we recorded it live in my backyard with Oli (Paperhill)," she reveals.

"In my old family home we had a deep set spa bath and I had this gorgeous nylon guitar, I had this really moody song and it was about a heartbreak at the time. I was adding artificial reverb, it wasn't right, so I sat in one corner of the bath and pointed my guitar to get this swell of sound into the mic."
Andie has grown up in the Blue Mountains community and her first festival gig was given to her by Bob Charter. "His partner was a drama teacher at my school. I had my name on the t-shirt and everything!"
A regular busker, Andie has been playing in the same spot in Leura for about 8 years "When I was about 16 I was busking in Leura and these two boys were busking on the other side. I looked over and saw they were about the same age as me... I just yelled out 'Oi, Do you wanna jam?' So from there Oli and I kept in touch and he helped me record, then KFM mastered the first EP, they made it sound incredible!"
Sound Heaven
"I kinda wanted to do this new EP before I moved on to Melbourne. I had planned to move, but I was adamant I would record a new EP to show people this is what I do now," says Andie.
She recorded with John Stuart at Sound Heaven Studios in Katoomba "He had originally come into my café in Lawson and I brought him his decaf flat white and I asked him about recording. We really clicked and he listened to me and I took on his advice, it was a really good dynamic!"
The new EP, One Foot in the Grave, features Isaac Beggs (Feast of Fools) on drums, funky Dave (Jackal or Tiger) on bass, with Andie on guitar and vocals.
"It was an incredibly rushed process - I was moving to Melbourne in a week and a half, so I booked the studio and we rehearsed for 5 days in a row.
Dave
and
Isaac
got all their parts done in one day, then I went back the second day and dubbed my guitars and vocals, then I went in for another day of mixing – then I fucked off to Melbourne," she says wryly.
"I moved down there for a fresh start, meet some new people, get a bit more into the music industry."
The EP was funded by a Kickstarter campaign for $2500 but hit $5700. "But I lost $700 in fees," she warns others, before offering advice to those starting out: "Having the Youtube fanbase definitely helped me, but in a lot of ways it pigeonholes you. I'm trying to stray away from the cover artist and thing, but if there's a popular song that comes out, cover it and see what happens!"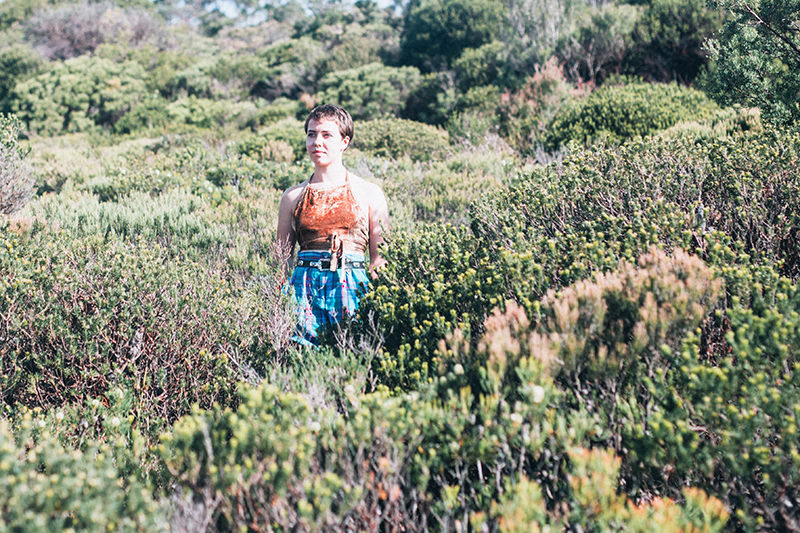 WINTER MAGIC
"Last year we had this circular persian rug and sat opposite the bank in Katoomba St. As soon as the parade finished we started playing music, we made $800 in about 2 hours, and I sold 40 Cds!"
On May 27 Andie took to Instagram to inform her Kickstarter supporters that she was ready to go! "hi SURPRISE the ep is out Right now!" With cover artwork by Juno Norling Bennett.
One Foot in the Grave is out now. www.andieisalie.com