In the same insane vein as one of their rowdy local live shows, (pre-COVID), the first moment of Paperhill's rockin' debut LP Get Distracted instantly jolts you awake, grabs your attention, and plunges you into a cathartic maelstrom of breakdown riffs. However, in a classic case of Blue Mountains irony, the duo's music is created by two of the most relaxed and friendly souls that you could ever hope to meet. Incorporating a grassroots grunge sensibility, a love of brashly thought-provoking lyrics, and an impassioned vocal style, Paperhill's frontman/guitarist and former recording drummer/multi-instrumentalist Oliver (Oli) Morley-Sattler, (left in photo below), likens the album's heaviness to a "big, chunky meat sandwich". Holding it down on drums is diehard metalhead Johnson (Johnno) Lorenzo, (right in photo below). He brings an appreciation of the fresh savagery of modern metal bands like Northlane and Parkway Drive, two inspirations which are subconsciously incorporated into his heavy grooves and frantic fills.
For as long as they've been a hard rock duo, Paperhill's songwriting approach has been directly influenced by the spontaneous creativity of jams and improvised sessions. As a result of this, the formation of all of the songs on Get Distracted can be credited to both band members. Johnno explains, "[Oli] would often just come to me with a guitar riff, or a snippet…so we'd later just jam on that for a while, and let it progress." Upon reaching certain inspired points in sessions, the duo would have to stop and make themselves realise the quality of what they'd played spontaneously. As Johnno states simply, "we'd mess around and that would produce something that we could work into a song." Upon their final construction, many of the songs on Get Distracted range in contrast from the pounding riff descents of 'Head Down', 'Hit The Ground', and 'Mud Saturn' to the direct pop love songs of 'Where You'll Find Me' and 'Notice Me'. The eleven final tracks ultimately comprise a loud, aggressive, and upbeat album, with certain songs containing enough wild 'YEAHs' to make James Hetfield grin.
Although the album's pre-production was being discussed as far back as early 2017, early production began in mid-2018 in Katoomba, NSW. After Paperhill spent one day with a four-man set up of some borrowed equipment from friends, the bulk of the album was tracked in one-day-to-early-morning on the following day. The musical duo and their trusty engineer recorded all drums and guitar parts at Junction 142, Katoomba's beloved youth/variety venue and unofficial home of punk, AKA Uniting Church Hall. Live engineering was provided by Tyson Forsaith, a longtime friend of the band and an experienced hard rock sound man, who also frequently operates the sound of Paperhill's live gigs. He is immortalised in the title of track eight, 'Wake Up Tyson'. In reference to the song, Oli comments "we always joked that we'd turn up in his lounge room one morning when he's really hungover, to switch on and play that, and only that, and then just get out of there." Through placing Johnno's kit under the church's pipe organ, constructing an insulating mattress fort around him and placing amps up on pallets with foam insulation, both instruments were controlled enough to retain clarity while being organically infused with the live room sound of the booming hall. "We can sound quite tight and punchy", Oli explains abstractly, "but it's nice to have this big, roaring, open breath [in our songs]." After the music of all eleven songs were recorded live, using a guitar/bass amp split for Oli's remarkably heavy tone, vocals were recorded a month or so later at Tyson's house in South Katoomba. For a duo comprised of two drummers, the honing of song tempos for their definitive recordings was an unforeseen issue, as many of these songs were formerly played live at a variety of spontaneous speeds. However, Johnno recalls that they were assisted by discovering a golden metronome tempo of 173 BPM (beats per minute), which they recorded a majority of drums and guitar to. "[This tempo] just ended up being a great sweet spot for a lot of those tracks we recorded", states Johnno. "I don't know why."
Considering the fact that Paperhill have performed for dozens of packed teen crowds there, Katoomba's Junction 142 was a very fitting location for the recording of their debut, in a space that's equally notorious and revered for the depth of its natural reverb. "That's where so many of our significant, formative gigs have been", Oli recalls. "It just felt right to do it in that space, because that's where a lot of those songs got to come to life." Commenting on the recording process, Johnno adds that the capturing of Paperhill's live energy, i.e. the 'lightning in a bottle' approach was the objective he set out with. "I just wanted people to feel how I felt when I'm playing the drums on a stage", he explains. "Listening to [Get Distracted] for the first time took me back to being there that night for so many hours, just grinding away at the songs. It'll be useful for people who have never seen us live." With the release of the album, reactions from friends and family have been incredibly positive. Johnno even commented that for someone who's never listened to a heavy album and is a big Bruce Springsteen fan, the drummer's mum was enjoying listening to her son's album in the car. "I was pleasantly surprised", he mentioned.
First spawned as Oli's artist title for his DIY solo experiments of seven years ago, 'Paperhill' went through many member changes and sonic phases of pop, funk, folk, and psychedelia for the name to now be attributed to the hard rock duo. In that time, Oli performed and recorded with a handful of late local bands as a drummer and percussionist, namely retro funkers Jackal Or Tiger, psychedelic rockers Womb Catacomb, and blues-rock act Swell Triplex. Starting two years ago as a DIY tape-recording experiment that morphed into a folk act, Oli currently satisfies a mellower side of his psyche by performing as a singer-songwriter and guitarist in Tally-Ho And The 10-To-Go's. More recently, Oli's released one album, one EP, and one single under his own name. He also lends mobile recording and production skills to other local artists and groups, such as Spooky Mens Chorale's Stephen Taberner, funk merchants Safire Palms, and beefy post-rockers Sounds Of Agriculture. "Having a contrast like that is actually kinda helpful", Oli claims. Three years ago, Johnno briefly lent his heavy musicianship to a young metalcore friend project called Summit. Although the group barely wrote one song, it featured the talent of players such as guitarist Mackenzie Begg, who now plays in the emerging prog/metalcore six-piece Artisan. Johnno also occasionally plays drums with Tigermoth, a local grunge trio with guitarist/singer Reyhn Marvin, who collaborate with bassist Rory Wilson. While Rory currently plays in Safire Palms and was the main six-string guitarist for Alienativ, all three members formerly played in Call To Florin with Nathaniel MacNamara, who's now providing vocals for the metal group Quiet Carriage.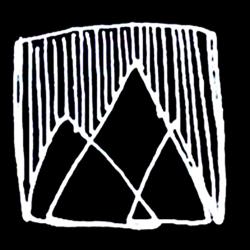 Although it's now Paperhill's debut album, Get Distracted is far from being the first Paperhill release online. During the release of a diverse range of original songs and a rarer DIY EP, Oli's notable solo debut as Paperhill was released four year ago as an EP titled Given, (pictured below), which was recorded entirely at Boris Hunt's Black Rabbit Studios in NSW's Kanimbla Valley. While a majority of the EP is relatively laidback folk rock, with Oli playing every instrument, it's heavy final track 'No One Home' hinted at the future evolution of Paperhill's sound, with wailing vocals, crashing cymbals and two meaty main riffs. Two years later, with Johnno in tow, a collection of six
home demos were released on Bandcamp under the name, THE BOX (pictured to the left of their black and white logo). Of the six, two of these tracks, ('Better Juan' and 'Notice Me') appear in their final form on Get Distracted, which has now been released two years later in 2020.
Looking back from the new Paperhill album to his early days of DIY experimentation, Oli recalls, "I've always been heavily influenced by [grunge/hard rock], I think it just took some time for that to actually manifest through my songwriting…Johnno definitely brought the 'heavy' out in me." The duo actually lived together for a majority of their new album's songwriting period, which resulted in a comfortable synergy of complimentary influences. This strongly affected the final sound of Get Distracted, with notable vibe influences being Rage Against The Machine, Soundgarden, Pearl Jam, and Silverchair. The natural feel of the album was also inspired by local heavy riff-based bands from the Blue Mountains and Sydney. While a majority of the album is comprised of Paperhill's familiar live favourites, Oli mentions that 'Heavy Shit' and 'Wake Up Tyson', were newer, more spontaneous creations. Over the course of the album's creation and completion, the duo balanced many personal endeavours with obstacles like failing computers and the unrelated rebuilding of local recording studios. Oli comments "we certainly did get distracted, and that's a big part of why we called the album that…I think I was sort of bouncing back and forth between wanting the album to be really really fantastic, but also wanting it to be honest and out now, y'know." Although drums and guitar were tracked in a single sitting at Junction 142 with all vocals being recorded a month or so later, Oli's had to adapt his busy life to the final steps of idea-tinkering, mixing, and mastering, which resulted in a careful balancing procedure that took over two years. Helping Tyson and Oli through the process were co-producers Travis Hackett (formerly of Splatterpoo and The Valley Eyes), and Stuart Cam (Future State Band). Hibiscus Biscuit's keyboardist Sy Dyson makes a cheeky appearance on 'The Gunslinger', the second last track on the album. "Maybe [we] won't take two years next time", Oli remarks.
While Get Distracted has now been released across most digital music platforms and Johnno's began to think of making a music video again, Oli states that the duo are working on preparing some CD releases with help from Design Heroes/HAZE Magazine's Mark Alston. These upcoming physical copies will come with the inclusion of personalised DIY font, messages, and art elements. "We pride ourselves on that DIY feel", Oli states. Inspired by an image from an old gig poster, the album's striking cover art was created by Iz Concetta of Hypnotics Magazine (Isobel Host - @ize.art on Instagram), who fairly recently moved from Melbourne to Sydney with her husband Myles, one of Oli's old bandmates from Jackal Or Tiger. "I really admire her animal-focused art", states Oli.
While mainly based in Katoomba, Oli also chooses to live nomadically out of a compact truck set-up, with utilities, storage, and a small drum kit that he's been known to assemble and play on remote Mountains clifftops. However, feeling that a weight has now lifted off his chest through the release of Get Distracted, Oli has now left the Blue Mountains to go up north for a couple of months, although he'll hopefully be arriving back around February. Online collaboration with Johnno will still take place. Oli also mentions potential future collaboration with a local bassist, which would turn Paperhill into more of a conventional rock trio. "I'm not really writing heaps at the moment", he says, "but there have been a few things floating around that will be put down and made when I get some solid time again". For the meantime, fans can absorb themselves in the wild and rugged sounds of Get Distracted. Although Oli once affectionately labeled it as a 'ridiculous bundle of sonic sludge', the album is actually as sharply cunning as the snake and squirrel on its cover.
Words by Corin Shearston
Picture Credits, Top To Bottom: Courtesy of Paperhill - photographer unknown, Aidan JG Photography, Aidan JG Photography, additional images courtesy of Paperhill.