It has been said time and time again that the Blue Mountains produces an amazing amount of music. The phrase 'something in the water' is often used to remark at the diverse and eclectic artists that emerge from our live music scene. But there is one genre with a following so dedicated that it has been given its own name - 'Blue Mountains Hip Hop'.
Words and pics: Pat Bowden
You might recognise big names such as Hermitude, Urthboy, Thundamentals, Dialectrix, and Down Under Beats as some of the artists to emerge from the Mountains scene. Hip hop heads would flock to TrisElies and the Gearins Hotel for their fix of live beats and raps, and from that small but dedicated scene in the moutains, we can often hear these artists mentioned on our radio and in mainstream media. These days the names have changed, venues have come and gone and the music has grown even more diverse, but the love for hip hop has stayed the same.
Cooking up a Storm
Caustic Yoda (real name Tony) is the beatmaker and producer for funk / soul / hip hop collective Cooking with Caustic, the operator of CwC Studios in Wentworth Falls, and organiser of the monthly hip hop showcase Toasted Loops at the Gearins Hotel. He has played in a countless and still-growing number of projects (Bomb Threat, Two Toes, Otherside to name a few) and has seen artists such as Daily Meds, Reverse Polarities, and Backyard Lab through his studio for recording, mixing and mastering. "The Blue Mountains hip hop scene has been growing for a long time and has had a growing local scene for the last 20 years. It's an ever expanding diverse genre these days and always pushing new boundaries while keeping true to the fundamentals of the style."
So with an extensive number and range of active artists, how did the Blue Mountains hip hop scene come about in the beginning? Tony attributes it to a certain venue just off Katoomba's main street. "Explanetary are considered the first act that I can remember, but things didnt really take off in a big way until Down Under Beats crew started putting on nights at TrisElies, which was the venue that Blue Mountains hip hop begun at in many different forms." Now the Station Bar, TrisElies was the hub of the growing hip hop scene, hosting artists such as Jumbledat, Rumpunch, Funk Injection and Down Under Beats on the regular. Nowadays hip hop gigs can be found in just about any of the venues in Katoomba, however the biggest one happens every month at the Gearins Hotel - Toasted Loops.
"Toasted Loops started in 2012 and took over from regular nights like The Hustle. The last two years have been massive, with almost monthly shows and at least ten new local acts joining the scene. It's pretty much exploded up here with new talent after a couple of quieter years. Getting the new acts started and supporting our local hiphop heads is a big part of what Toasted Loops is about."
Grass is Greener
One of these acts is Otherside, who in their short time as a band have supported British supergroup The Four Owls in Sydney, packed out the Gearins Hotel for an EP launch, and built an incredible following of fans that will fill a room wherever they might be playing. Hammy and Wise built hype with early tracks on YouTube, followed by the Slurred Words mixtape in 2015, and the Grass is Greener EP a year later. Often seen collaborating with local groups The 3G Network and Ivy Mics Krew, Otherside have made a name for themselves off the back of a fierce live show and two solid releases.
More Creative
Madame Wu and Elise Graham are another duo who have become a fixture in the local scene. Originally hailing from Campbelltown, the pair have produced two albums (at CwC Studios) and performed as part of Cooking with Caustic. With the combination of fiery and hard-hitting bars from Madame Wu against Elise's soulful and bright vocals, it's easy to see why punters come away amazed after watching a set of theirs.
Of the local scene, Elise says that "hip hop in the mountains has the confidence to be more creative, incorporate different instruments and musicians in the process. It's an artsy area and I think local artists draw inspiration from other musicians across genres". Madame Wu (real name Justine) agrees: "the people who come to gigs are a diverse crowd – a mix of hip hop heads and open minded people who appreciate good music. The hip hop heads are really supportive and proud of their local scene, there is consistently so much new talent in the mountains. I find the audience interaction is a lot more responsive in the mountains and that makes performing so much fun."
Both agree that the setting of the mountains plays a part, if only small, in their creative work, and Elise tells me that "...for us, what we write about reflects our experiences, the places we have grown up in or spend time in. Although we are not from the mountains ourselves, we have spent a lot of time in the area whilst recording and performing. I'm often drawing from memories in these places, so they come across in our music."
So is it a different experience for two women in a scene that, in the past has been traditionally dominated by male acts? Justine says "I am frequently told I am 'one of the best girl rappers' which can be hard because no matter how hard you work you're not sure if it is your skill or your novelty that is appreciated. I'm often judged on my appearance, to the point where I've not been allowed in to soundcheck, or refused a mic in an open mic, because people don't believe I'm an emcee." And on the ways the hip hop scene, and wider music scene in general can improve on this: "Don't normalise and perpetuate sexism in your lyrics and in the way you treat women. Respect our boundaries, this could be as simple as when we step off stage, offer a respectful handshake, don't grab us and assume we all want to be hugged. If you wouldn't do it to a male performer, don't do it to us."
"Don't assume when we speak up about sexism in our industry that it is a personal attack on you. We need to have a respectful conversation. Enough judgements on our appearance, just listen to the music."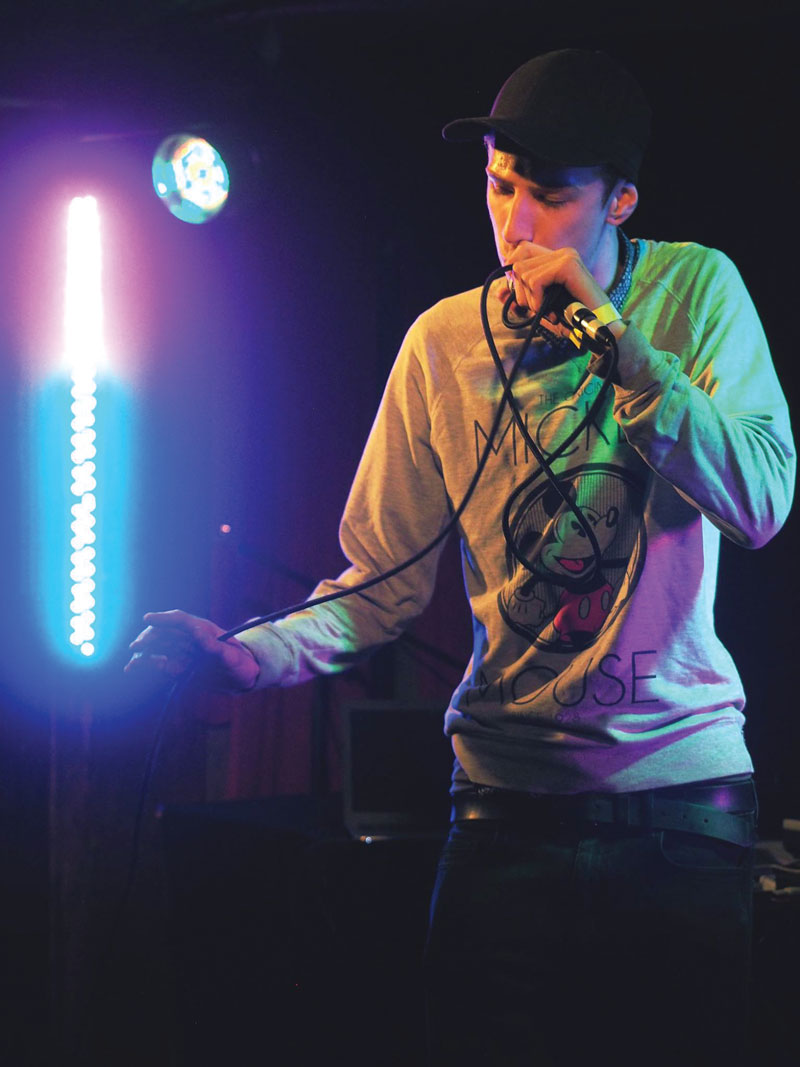 Stretched too far
You might call Stretchy MC an outcast on the scene, and he'd love every word of it. Drawing inspiration from any and all genres of music, Stretchy treads where others fear to step - incorporating elements of American trap, British grime and electronic music into his unique and confronting brand of hip hop.
"I spent the first sixteen years of my life listening to mainly rock and metal and try to channel influence from the likes of Ian Kenny (Karnivool), Kim Benzie (Dead Letter Circus) and Maynard James Keenan (Tool). Hip hop influences range from politically fuelled Australian artists like P. Smurf, Horrorshow, and The Herd, U.K. boom bappers such as Jam Baxter and Dirty Dike, and various American rappers such as Watsky, Futuristic, NF and Hopsin", he says on his influences.
Stretchy (real name Tarren) describes the topics of his songs as "something about the ironic duality in being privileged but still depressed and ungrateful, and seemingly motivated by others misfortune or injustice". He covers topics ranging from political and social affairs to more introspective and personal issues, often relating the two together in the space of one song. Track names like Catapults and Cannons, Villian, Menace and Revolt! Revolt! ensure for a unique and attention-grabbing listen, and Stretch's long awaited second mixtape Stretched Too Far is due for release in the near future.
Hungry for Hip Hop
One of the newest crews on the scene is Kadence. Kyle (KayC) and Hayden's brand of hip hop effortlessly flips between dreamy soundscapes, slow jazzy breaks, and hard hitting boom bap beats that easily get a whole crowd nodding their heads. Kyle describes the scene here as "hungry... so many talented friends are blooming this amazing energy, that I'm so fortunate to be apart of. There is a great amount of unique styles, yet never confined, always different creations coming to the forefront, which keeps me always inspired to better my art and music."
Kadence are making movements towards releasing their as yet untitled debut album, and their first show at Toasted Loops without releasing any tracks saw the room packed out, showing the crowd's eagerness to hear something new, as well as to support the seasoned acts. "Toasted have given such an awesome and exciting platform for a whole bunch of amazing artists each month, and always showed love to upcoming artists [..] in the process making it a comfortable transition onto the stage" says Kyle.
However you like your Hip Hop, the small but remarkably dedicated scene in the Mountains covers all these bases. If the successes of earlier pioneers hailing from here is anything to go by, these artists are also destined for greatness; however it is the certain combination of a unique World Heritage area, the staunch loyalty of fans, musicians and creatives, and the ever expanding spirit and vitality of hip hop that creates something exceptional of our own: Blue Mountains Hip Hop.