A large amount of nervous planning and innovative effort went into organising the live launch of the self-titled debut EP by R'n'B trio Blue Sherlock. Fortunately, the event happily went off without a hitch, on a private rural property in Springwood. Truly coming together as a family-based, community effort, some stunning LED light sculptures were assembled by the sister of Willem Roorda, the lead singer, guitarist and songwriter for the group, with Willem's dad Jeffrey 'Bass Daddy' Roorda hosting the launch on his property and playing in the trio, and Willem and his percussionist partner Jeremy, third member, even going so far as paving areas of the yard for the show.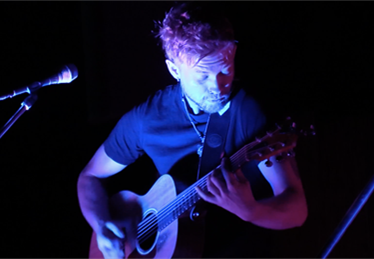 As dusk settled over the lofty gums and pines, two smart and sophisticated sets were introduced by a hilarious speech from the head chef of the catering crew, with some genuinely thankful words from Willem. As a precursory sampler to the music of the bold, young artist, some of his previously recorded covers of blues and jazz standards provided the canned ambience for over 100 crowd members to drift in to. As some of Willem's solo pieces date back to 2016, a sense of genuine musical evolution was perceived, from recordings of strict genre-centric playing to a relaxed and vibrant showcase of live sounds in Blue Sherlock.
Introductions aside, a relaxing and casual vibe was conjured up by the trio as we were treated to three funky, bouncy originals with covers interspersed within, such as Michael Jackson's 'Billie Jean', and 'Nothing Else' by Angus & Julia Stone. Meanwhile, a beautiful array of purple and green lights lit up the darkening sky, and sumptuous plates were shared. A nice moment of nostalgia came when the trio performed a cover of a song remembered from Willem's childhood, of an original piece once performed by Jeffrey's former rock band. After the reliable groove of Jeffrey and Jeremy, on bass and cajon respectively, the rock band's former singer was invited onto the stage to share some of the crowd's applause.
Reflecting the group's philosophy that every song is attached to a person or story, the two refined sets also contained a few surprising sonic moments, as Willem peeled off some scorching solos of distortion and phased wah-wah. As a pair of restless, tree-climbing kids were put to work in the kitchen, the enjoyable party vibes of Blue Sherlock's EP launch were proof of a terrific, light-hearted evening in the name of some good-timin' R'n'B. The night also served as a farewell party for friends and family, as the trio soon embarked on a European tour to support the EP, visiting such places as Germany and the Netherlands. In fitting tribute to Willem's Dutch heritage, Jeremy's surname happens to be 'Holland'. However, back in less-exotic Springwood, Blue Sherlock performed a memorable show as a testament to the passionate D.I.Y attitude of the Blue Mountains music scene, and things really paid off. It will be exciting to see what the trio does next.
Live Review and Photos Courtesy of Shearston & Grilli Entertainment Media