Last Thursday Stephen Champion, curator for the 2018 Inland Sea of Sound announced the line-up for the event, which will be held later in the year over two dates Friday 30th November & Saturday 1st December to take advantage of the warmer weather up on Wahluu – Mount Panorama.
The headline acts this year are The Cat Empire and Deborah Conway & Willy Zygier, whom are seasoned festival performers. Both acts will bring something special to compliment the great array of local talent from across the central west region.
Some of the local acts have featured in the pages of The Haze Magazine including Smith & Jones, Safety of Life at Sea, Andy Nelson, The Honey Drippin' Mudskippers.
The will be some up and coming singer songwriters featuring Gabbi Bolt (who played her powerful anthem "Girls Eyes" at the launch) Amy Viola, Darren Smith & Robbie Mortimer. Katoomba based songstress Andie will also be appearing. Dubbo Based band Civil Hands will bring their blend of indie rock to the festival stage.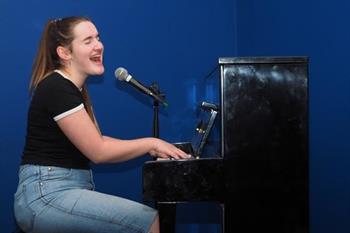 There's also several visiting acts from across the country, spanning a wide range of genres Benny Walker, Karen Lee Andrew, Amber Joy Poulton, LamBros, Heath Cullen & more which are sure to satisfy any one fond of roots based music.
All this coupled with a very exciting indigenous & visiting first nation artists program makes for a great festival weekend.
The Inland Sea of Sounds offers a unique experience with it being held on areas of Wahluu-Mount Panorama that are usually inaccessible to the public. There's a blend of everything that is great about all things arts, music and culture and when fused with great food, wine and crafted beverages from across the central west it becomes an experience of all the senses.
The beauty of it is that for Blue Mountains residents it's almost in your own backyard and you can be there in less than two hours.
Take advantage of early bird tickets that are on sale until August 31.
Tickets can be purchased at: www.inlandseaofsound.com.au.
Pic credits: Sam Bolt
Main pic: Inland Sea of Sound (ISOS) launch, left to right Jade Flynn, Gabbi Bolt, Lian Wong, Kris Schubert, Steven Champion, Chloe & Jason Roweth.
Pic 2: Gabbi Bolt performing at ISOS launch
Pic 3: Safety of life at Sea performing as a trio for ISOS Launch.
Written by Patrick Coomey