Lithgow's boldly unique Resilience festival exists across differing decades of music and varied generations of people, taking place on Saturday the 13th of October. A memorable day is guaranteed, combining a social focus on mental health and suicide awareness with a musical angle of bringing old-school rockers back to an arena-like venue alongside newer, hyped headliners. Allowing more recent bands some crucial exposure alongside iconic metal and rock bands, all proceeds will be donated back into the town. The whole project was dictated by this selfless community generosity, with most businesses in Lithgow chipping in and three ingenious local organisations overseeing big fundraising nights on the back of a generous council fee waiver. Armed with a friendly dream goal of beating the attendance numbers of Ironfest, The HAZE digs deeper into the story of Resilience.
[Top, L-R: Greg McManus, Glen Hurry, Sam Williams, Steve Broome; The Resilience masterminds - pic by Mellen Burns]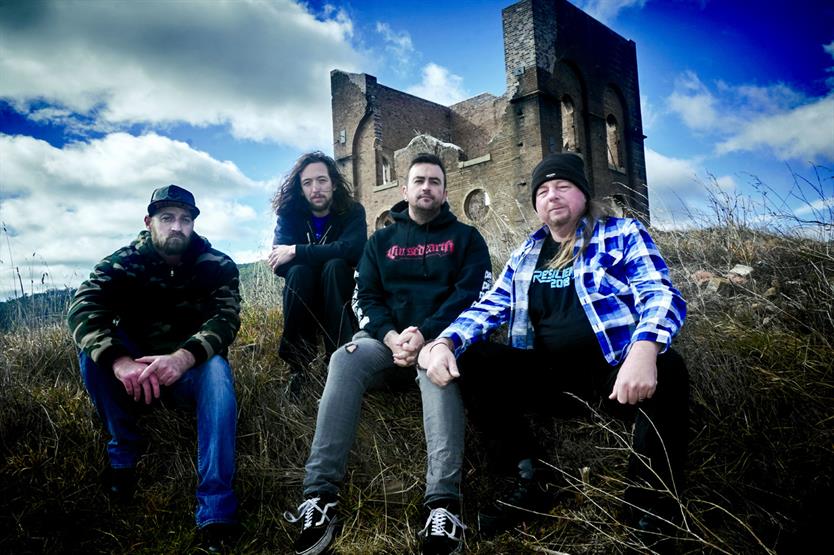 Chatting over coffee with organisers Greg and Sam, Resilience fest's contextual origins were revealed as an inspirational event born of tragedy. Due to the financial hardship of recent redundancies with some local companies and mining operations, 13 Lithgow citizens committed suicide over the course of 18 months. Having the nearest mental health service buildings in Bathurst and Penrith only aggravated the situation. Fortunately, a Headspace centre will be established for the town in November, but is only accessible to under-25 year olds; a resource which wasn't readily available when it was severely needed. Organiser Greg McManus sadly lost two friends in two weeks, and knew he had to do something. This led him to spark up the idea of a fresh music festival; aimed to simultaneously provoke discussion on the matter whilst keeping an entertainment-based framework. Therefore, Resilience fest will feature mental health information and displays alongside the major drawcard of live music. As Greg tells HAZE, "Resilience is to bridge the gap. Live music has always been my outlet, where I can get in a mosh pit and nothing matters, for however long that may be. Lithgow hasn't seen a music festival for a very long time. Bands with an opinion and thematic presence on mental health is where we're looking for with headliners, to showcase what we're about." So while promoting mental health awareness, the music lovers who organised this open-air festival are providing a newer, larger, and more engaged audience than a pub or bar crowd. "We're allowing the space for expression and providing a listening audience", Sam tells HAZE. To maintain clarity for the emotional heft that inspired the festival, audiences are encouraged to absorb the lyrics of performers, whilst letting loose and 'going off their melon', to quote Sam.
Such a positive and original event would naturally receive a lot of support from a grief-stricken town. Apart from a $3000 council fee-waiver, the entirety of Resilience fest was community and crowd-funded, as Lithgow banded together against this community-wide problem, whilst advocating their local scene.

Three very special community organisations volunteered as major sponsors, Greg explains. "The Springvale CFMEU (Union For The Mines) gave a big donation. 50 guys went around to their employees and they all chipped in. We got a serious donation, without which things wouldn't have been happening. The Poker Run funded us too, organised by Peta O'Malley. Going round to 4-5 different destinations, local businesses sold raffle tickets with prizes in a silent auction, and raised a couple of thousand. Also, the Vale Ladies Bingo threw two Bingo nights with no-one aged under 60, raising $1000 each night." Greg and Sam are obviously thrilled with the very profitable results of this large community effort.

Ultimately, Resilience proves that music and artistry is still blooming in Lithgow - something that will hopefully lead to more inter-connectivity between our regional and metropolitan scenes. While giving a leg-up to newer bands and performers alongside the resurgence of older, more established acts and crowd-pulling headliners, new seeds for a growth in culture have been planted in the soil of misfortune.
Lithgow's rocking all the way to the top.
Corin Shearston