The Baroque Room bar & nightclub in Katoomba, with its reputation now established as a popular place for touring heavy bands to visit on the live circuit through hosting such notable acts as Frenzal Rhomb, King Parrot, Gay Paris and most recently, Totally Unicorn, will be teaming up with Ritual Bookings, Beardfoot Bookings, Blue Mountains Refugees Support Group and popular local prog-legends RED BEE to let in the alternative metal fans for Rituals Vol. 3 - Rock For Refugees on Saturday, October 5th.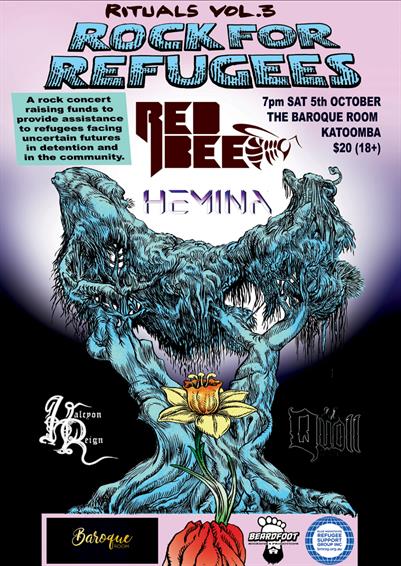 Unlike the two previous Rituals shows to happen earlier in the year, the psychedelic doom-tinged debut event on March 22nd with Maroota Joe, Magma One, Mountain Wizard Death Cult and Celestial Oath and the hardcore/sludge-inspired follow-up night on July 20th with Black Rheno, Hypergiant, FANGZ and Paperhill, Rituals 3 will be a charity event with more of a progressive metal/djent-bent angle. The incorporation of more of a positive floral art style on the locally-plastered posters symbolises this, a concept of musical re-invention and community renewal through the donation of all ticket sales going towards "refugees facing uncertain futures in detention and in the community." Co-organisers and headlining act RED BEE will be the major drawcard of the night, supported by Sydney's Mastodon-influenced, partially ocean-themed Halcyon Reign, mysterious local alien-metal duo Quoll, and Sydney's flamboyantly power-metal influenced prog four-piece Hemina, (rhyming with 'demeanour'), who's very own lead-singer/guitarist Douglas Skene gave me some of his thoughts on the event in a recent phone interview.
"I'm very much a fan of metal and prog, I go to a lot of shows, and I love the Australian prog scene in general", Doug tells me. "I've never [had a gig opportunity to play] in the Blue Mountains before, so this sounded like a good one." Telling me that the other original remaining member of Hemina, guitarist/vocalist Mitch Coull, is a longtime friend of Rituals' organiser-in-chief Max Steel, he also tells me that his band are acquaintances of the members of RED BEE, (who's latest album Silent Enemy "sounds awesome"), and that all three Halcyon Reign members sang gang vocals on Hemina's latest and fourth album, Night Echoes. Following my enquiries on what type of material Hemina will be performing at Rituals Vol. 3, Doug encapsulates his thoughts. "When you've got a band [who's] lineup has been together for a while, with two albums of ours where the lineup has been consistent, it feels better [to be] playing songs that you've all worked on together, for the most part, rather than rehashing too much old stuff."
This quest for fresh musical direction can also be seen as a common goal for the organisational crew of Rituals Vol. 3, who yearn to offer valuable opportunities for emerging and established metal, punk and rock acts across NSW and beyond. Through choosing to selflessly donate all ticket sale proceeds towards the plight of refugees in modern Australia to further incorporate positive values into the local community, the inspiration of Rituals Vol. 3 clearly stands out as a cause to get behind and a fantastic gig to attend.
Words by Corin Shearston - for gig details, please refer to the poster.