Fusion Boutique prepares to treat audiences at the Metro Social this July 6th, with a special Friday night performance from Melbourne's world dance band, "Hello Tut Tut," with special guests "Devil on the Rooftop". Despite the cold snap, this hot musical line-up should be enough to warm the heart of any spirited musical traveller who listens.
Hello Tut Tut
Hello Tut Tut are dynamic and daring when it comes to creating original music. Tapping into their European roots, the band has a fresh take on the Klezmer, Balkan, Gypsy and Latin musical traditions. By blending these styles with the pulse of contemporary dance music, this seven-piece brings a high energy show that gets you up and dancing.
They have made a speedy ascent on the World Music scene, winning over local and international crowds with their performances at Falls Festival (Byron Bay), Bello Winter Music Festival, Live en Août (New Caledonia), Rainbow Serpent Festival and a collection of Australia's most recognised venues and night markets.

The group have recently completed their third Australian tour, returning to Melbourne to finalise their debut album which is set for release in March 2018.
Joshua Gluck — Clarinet
Alexandra Keusch — Violin
Eamon Roy — Guitar
Joshua Szabo — Bass
Stefanie Gumienik — Accordion
Hughie Hanily — Drum Kit
Nicholas Miles — Percussion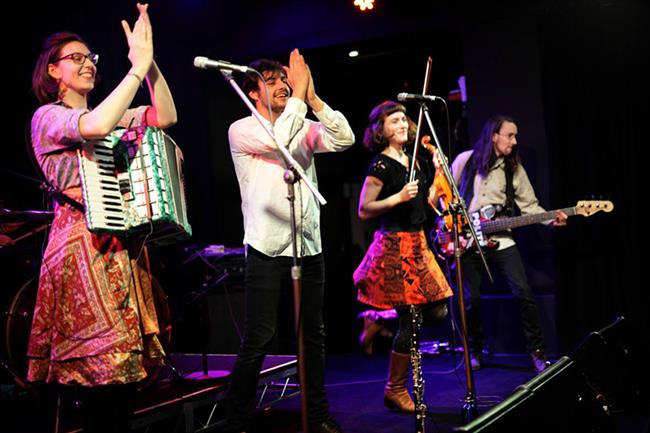 "Total boogie times" — The Music
"Dynamic and loads of fun, this band is the hottest new group on the world music scene in Australia, paving new directions in original Eastern European inspired party music!" — Tania Bosak (Open Studio)
---
Devil On The Rooftop (DOTR)

Devil on the Rooftop are a fantastical realm between Eastern European folk tunes, Bluegrass and something else...


DOTR is combination of the talents of Jess Randall (The Crooked Fiddle Band) and Morgan Haselden (Mimosa).
Jess Randall entangles her classical background with a gut-wrenching no-holds-barred approach to traditional fiddling styles. She has toured Europe, The UK, Scandinavia and Australia on many occasions with her other musical love, The Crooked Fiddle Band.


Jess' love of 'faster than you can actually play' Romanian fiddle style and appreciation of it's parallelism with hard-driving Bluegrass set her off on a quest to train-wreck the genres into something more than the sum of it's parts, finally emerging with Devil on the Rooftop.
Morgan Haselden founded 'Mimosa', a modern Gypsy duo, which has toured Australia and France. Morgan has studied under some of Australia's best classical guitarists and performs regularly as a Classical and Gypsy performer.
www.facebook.com/pg/devilontherooftop
---
Fusion Boutique Presents 'Metro Social' with
HELLO TUT TUT (MELBOURNE)
+ Special Guests DEVIL ON THE ROOFTOP
Live in Concert at the 1930's Metropole Guesthouse.
FRI 6th July 2018. Doors Open upstairs 5:00pm.
VENUE:
Metropole Guesthouse (Upstairs "Metro Social" Cnr of Lurline and Gang Gang Streets,

Katoomba, Blue Mountains NSW 2780).
More info: www.fusionboutique.com.au
The Metropole Guesthouse is an all ages venue however minors must be accompanied by a parent or legal guardian and must remain supervised and do require a standard ticket for entry. Please also keep in mind that the performance space is a listening room.

Doors Open 5:00pm. Show Starts 6:00pm.
General Admission. Theatre Style Seating, cocktail lounge and standing / dancing room.
Tickets DISCOUNT Early Bird pre-sale $20 available from The Metropole Guesthouse (during reception hours) Cnr of Lurline and Gang Gang Streets, Katoomba, Blue Mountains NSW 2780. (Cash Only).
Or + b/f Card /Phone 02) 4782 5544 and Online $21.50 (Including booking fees): www.fusionboutique.com.au
Or $25 on the Door from 5:00pm (Unless Sold Out prior)

This is an intimate capacity venue and tickets are strictly limited!

For more information visit: www.fusionboutique.com.au