Two vital, determined forces for the cause of maintaining a thriving alternative music scene in our state, co-promoters and organisers Max Steel ( Ritual Bookings ) and Anthony Blayney (YOUR MATE Bookings) delivered a fine, loud and fuzzy night of metal, rock and funk on the 7th of December, 2019. The fourth instalment in Max's independent 'Rituals' nights, taking place at the Baroque Room in Katoomba, Rituals Vol. 4: The Summer-Ning paired Arrowhead, Maroota Joe and Black The Svn, three acts based around Sydney, with Magma One and Hibiscus Biscuit, two acts based in the Blue Mountains. Partially bookending a rapidly developing year of Rituals shows with previous headliners Black Rheno and Red Bee playing the second and third events, respectively, Magma One and Maroota Joe also joined the first Rituals bill in March. Returning again, deemed older, wiser and more experienced, both groups displayed further refined prog chops, with Magma One's influence stemming from European black, death and doom metal, and Maroota's coming from the American sound-world of Tool by way of the laidback bush of Maroota, NSW.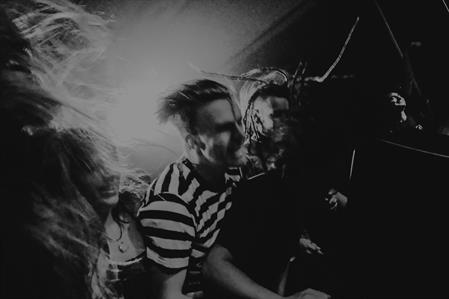 Opening act Black The Svn were particularly impressive, fusing a wider array of influences into a unique sonic blend of blackened sludge metal, thrash, and psychedelic rock. With a setlist including such original songs as 'Overkill' and 'Magos Del Espacio' (Space Magicians), Black The Svn displayed an apparent musical osmosis of such groups as Motörhead, Mastodon, Conan, and possibly, Hawkwind. Their drummer Cal even went so far as to further darken aesthetics with long, black fabric sleeves and a black neck of body paint. Holding their own, with stage props and conceptual details rich in the mythology of metal, Magma One incorporated a sacrificial knife, a goblet, a pentagram, and a logo banner to reinforce their iconography in the mind of the crowd. Performing four long songs as opposed to Black The Svn's intense eight, Magma One's winding, surprising pieces like 'Souls Align' and 'Totem Wolf' conjured up classic metal elements from bands such as St. Vitus, Darkthrone, and Celtic Frost. Working the crowd to a frenzy with complex, syncopated rhythms and slabs of amplifier tone, an example of the richness of Blue Mountains metal was properly displayed. We'll have to wait to hear if their lightning is well bottled in their upcoming EP, recorded at Katoomba's Shelter Studios.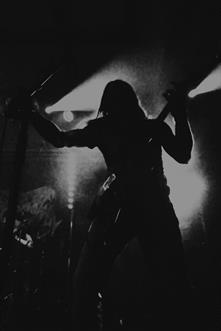 Abandoning the venom, force and bludgeoning power of the first two bands, a sophisticated urban atmosphere of funky psychedelia was invoked by Mountains four-piece Hibiscus Biscuit. As wild-haired Portuguese frontman Ricardo wrangled his six-string to peel off molten solos at lightning speed, powering on through a broken string, a younger hippy crowd were briefly made welcome on the dance floor of the Baroque. Generating hype for their completed debut album, Reflections Of Mine, due on March 1st 2020, the young four-piece were eager to show their heavier side and do justice to the hard rock and metal lineup. In recently signing to a new label whilst being found shows through YOUR MATE Bookings, this isn't Hibiscus Biscuit's first time doing so, as they've previously supported acts like Wo Fat and Hobo Magic. Developing from a standard funk act to a broadly-ranging retro rock outfit, keyboardist Sy isn't worried about how accessible their sound may, or may not be, for the crowd's majority of darker musical tastes. As he told me over a beer last month, "who doesn't like Jimi Hendrix?!" After the searing golden light rig of Purple Sky Productions illuminated Hibiscus Biscuit from behind, producing a memorable moment of stadium rock realness, it was time for the brainy prog-stylings of Maroota Joe.
With their debut album Plastic Soul being currently consumed by an eager fanbase of fans, friends and family, another pilgrimage up the mountain made these four young men eager to play at Rituals Vol. 4. Their sound is a heady mix of dexterous, mathematical riffs and drumming, complimented with spacey keyboard effects and topped off with soaring vocals. Despite the obvious similarities to the music of Tool, Maroota Joe seem eager to establish a sound and image that's distinctly their own. Their logo is clipart of a racing greyhound, their latest singles 'Earth' and 'Scum' are infused with primal force and passion. Having as much swaying hair as a 90's thrash band, these boys are committed to delivering a fun live show. The Rituals audience certainly returned the sentiment, with some of the loosest mosh moments of the night. Following such crowd-stoking, the sublime fuzzy menace of Arrowhead was guaranteed to heat the room to a small inferno. Raging on the back of their third LP, Coven Of The Snake, the musical prowess of the four-piece has earned the group support slots for such desert rock acts as John Garcia's Unida, and an upcoming slot for Fu Manchu offshoot, Nebula.
Proudly wearing these influences on their tattooed sleeves, and unknowingly paying homage to their future gig in Katoomba, their second album was entitled Desert Cult Ritual. It was released three years before 2019's third album. A malevolent droning rumble of guitars set the tone of the set, before Arrowhead launched into such new tracks as 'All Seeing Eye' and 'Ceremony Of The Skull'. Whilst a standard absorption of retro doom tropes was exhibited structurally, memorable riffs, attention-grabbing vocals and powerful stage presence elevated this group to a higher league. Personifying our younger generation's idea of a traditional doom-rocking frontman, singer/guitarist Brett evoked memories of the savage-yet-noble air of Pentagram's Bobby Liebling, down to his iconic handlebar moustache. Drummer Matt laid foundations with some aggressively tidy drumming, while bassist Arron kept things low and slow under the wisely strung explorations of guitarist Raff.
After the night's last lingering fuzz chord disappeared through the ornate surroundings of the Baroque Room, organiser Max Steel went to assess the outcome whilst punters sought out afterparties, other dwindling gigs and bar crowds, or retired homeward. At this current stage, Max tells us that he may have found a date for Rituals Vol. 5, on February 29th 2020. For a date that only happens once every four years, a very special lineup has been planned, with some absolutely crushing bands to guarantee a night full of magic for all. Leaving our organisers to find a way and keep their will, these first four Rituals events will remain as the initial continuations of a modern resurgence of live heaviness in the Blue Mountains.
With the Baroque Room now established as the region's premiere venue for nationally touring heaviness, we should see a sustainable frequency of various events. Over the last couple of years, the venue has now hosted tour dates from Frenzal Rhomb, King Parrot, Gay Paris, and was even hoping to host a show along Richie Ramone's recent Aussie run, although the whole tour has now been sadly cancelled. With past headliners Totally Unicorn, Black Monroe, and The Kids, the Baroque Room's punk nights are also greatly contributing to this movement, and are regularly organised by Greg McManus, (United Front Productions, Resilience Festival), or Glen Hurry, (Fat Rat Promotions). If there ever was a time for enriching, cathartic, and self-aware music, it would be now.
Photos - Top To Bottom: Rituals Crowd #1, Nigel from Magma One, Ricardo from Hibiscus Biscuit (left), Brett from Arrowhead (right), Rituals Crowd #2.
Words by Corin Shearston
Photos by Benjamin Urquhart @ringsandgrieves - Instagram