Down a hidden Leura laneway in a converted basement, slow fashion is percolating beneath Café Madeleine at the recently opened Parker Lane Studio – offering quality pre-loved and vintage clothing.
Allegra and Hayley (above) are the local duo behind this basement of garment gold and they are clearly passionate about the slow fashion movement, highlighting the importance of buying ethical, quality and recycled garments as opposed to the treatment of clothing as a disposable commodity.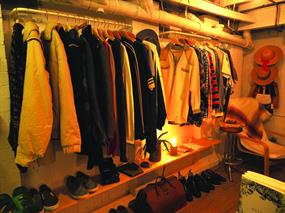 "All items are carefully handpicked and then restored, cleaned and pressed with the emphasis on natural fabrics such as cotton, linen, leather and wool," says Heyley.
Inside Parker Lane's doors an affordable and carefully curated array of styles immediately catches your eyes, the wowsers of beautiful 60s chic and 70s western to 80s street wear and 90s casual raise the eyebrows. Co-owner Hayley is busy ironing in the corner of the shop, the sounds and aromas of the café above infusing atmosphere as the displays of clothing peer toward us from the racks.
"This is our obsession come to life!" Hayley exclaims. "Allegra and I are right into the Slow Fashion movement, it's about buying quality and learning to reuse and repair clothes. Thinking about where your clothes come from and getting more into what's behind the clothing you buy."
"We spent many cold nights painting the walls in here to give it the Leura feel. Everyone that's come in has said The Mountains needs this and that our prices are really reasonable, their new favourite shop, it's really encouraging."
At Parker Lane, Leura. Jump onto Depop or Insta to see what Parker Lane have in stock. @parkerlanestudio
Pics: Pat Bowden (Patographics)