This year The Sydney Fringe Festival has partnered with Q Theatre in Penrith to provide more opportunities for Western Sydney based indie artists through the creation and presentation of two fantastic shows.
Table for Two? and Obviously are two new theatre works by Q Indie artists Will Tredinnick and Vonne Patiag; premiering at the Joan Sutherland Performing Arts Centre between 13- 15 September.
Pic: The Q indie artists of Obviously, a new stage production landing at the Joan this September.
Obviously is a sitcom following four twenty-something BFFs living together in an apartment; and the assumptions they are labelled with – that they are 'obviously' queer, 'obviously' ethnic, 'obviously' Westies. The work is inspired by 90s TV show nostalgia, complete with laugh tracks and 'live' credits. In Obviously, writer Vonne Patiag hopes to reclaim the sitcom format for modern audiences, featuring performers and storylines that reflect the diversity of Western Sydney.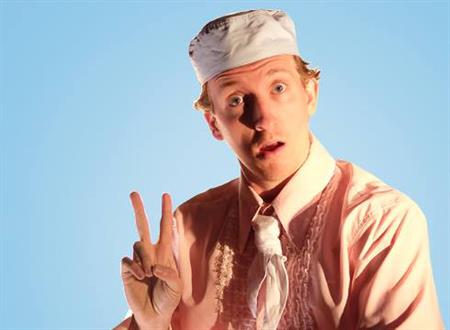 Pic: Promo pic for the physical comedy Table for Two, playing at the Joan this September.
In the physical comedy Table for Two? a dysfunctional restaurant prepares for its grand re-opening, and the staff soon realise they might be in for a long night. From Blumenthalian gastronomic experiments to mixological mishaps, prepare to be whisked off your feet and sieved into a melting pot of characters, calamity and caviar.
A unique theatre experience full of good laughs, terrible table service and more audience participation than you bargained for, Table for Two? takes your order and then forgets it, asks for it again and then loses the docket.
Originally developed in residence at Q Theatre and now served up as part of the Q Indie season at the Joan Sutherland Performing Arts Centre, Table for Two? and Obviously challenge both performer and audience to bring their arts appetite for a night that is sure to be remembered.
---
Q Indie Season @ The Joan
Table for Two?
Thursday, 13 Sep 7:00pm
Friday, 14 Sep 7:00pm
Saturday, 15, Sep 7:00pm
Obviously
Thursday, 13 Sep 8:30pm
Friday, 14 Sep 8:30pm

Saturday, 15 Sep 8:30pm
Tickets: Standard $32 / Concession $27 / Under 30s $30 / Two show offer $50. Available at www.thejoan.com.au or 4723 7600.
About Sydney Fringe Festival
Sydney's brave, new, imaginative, challenging and experimental voice. Our artists push the boundaries of genre, art form and innovation. Each year we work with our community to transform the landscape of our city into unique experiences not found in Sydney at any other time of the year. From activating unused buildings, unlocking hidden gems and presenting major outdoor activations, the Sydney Fringe Festival connects you to the city in new ways. We are an annual snapshot of how Sydney feels, where we are and where we are heading.